Seasoning Transfer Technology
Our patented seasoning transfer technology makes seasoning meats and other proteins including plant-based proteins easy and efficient on the production line. We offer a variety of technologies, including seasoned bags, seasoned transfer sheets and seasoned casings for meats and cheeses.
---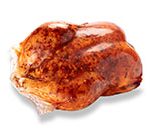 Superior sealability means fast production lines.
Excellent clarity for attractive final packaging
Available in forming and non-forming materials
---

Quickly add bold flavors to food, including steaks, chicken, fish, deli meats, and other portion cut or plant-based proteins.
Allows for controlled application of spices and other flavors
Ideal for portion cut meats to make for easy meat seasoning
---

Add flavor to deli or processed meats quickly, consistently and without messy hand applications.
Seasoning blends can contain large particulates for added visual impact and flavor
Seasoned casings are available in piece goods or shirred
---

Add new flavors to cheese – not mess to the production line – with Flavorseal's seasoning bags, sheets and casings.
Create the popular flavors consumers love quickly and easily
Three formats to fit your process
One-step spice application reduces clean up time