Food Storage Bags, Casings & Pouches
No matter what your packaging goal, we have a solution. We offer the finest selection of food storage bags, casings, pouches and roll stocks that are fully tested to improve efficiency and reduce costs.
---

Have your product stand out on retail shelves by adding color and shine.
Puncture resistant metallized film
Available in flat sheets or finished bags
---

Flavorseal's Low Temperature Cook-In Bags won't shrink and can be used for many purposes.
Available in a wide range of colors, sizes and thicknesses
Bags come pre-clipped or flat heat-sealed
---

Seal in flavor and freshness with non-shrink vacuum seal bags.
Readily available and competitively priced vacuum sealed bags for food
Transparent, nylon/PE blend, coextruded pouches
---

High Temp Cook-In Bags are high heat cooking bags that work as ovenable bags in dry heat convection or steam commercial ovens.
Available in both shrinkable and non-shrink material
Operating range of 0ºF to 428ºF
---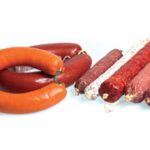 Flavorseal now offers collagen casings for cooked, semi-smoked, smoked and dried sausages
Available in formats for direct and indirect consumption
Available in multiple calibers and colors
---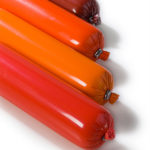 Improve yield and look of deli meats with Darlon casings.  
Wrinkle-free performance for less waste
Provides maximum compression
---

Protect meat packaging from exposed bones that could cause puncturing and leaks.
Available in a variety of widths and lengths
Materials: polypropylene, translucent polypropylene and cotton
---

Our Meat Soaker Pads have a highly absorbent core and a four-side seal that locks in moisture.
Minimize color loss and purge formation during display
Available in a variety of sizes, colors, and shapes