Shrink Packaging
Flavorseal's clear, glossy, and printable food shrink bags are the ideal packaging solution for meats and cheeses. Our printed shrink packaging creates high impact and high visibility food products that stand out on grocery shelves. The high-quality vacuum shrink bags and innovative solutions like Packaging on a Roll not only enhance the visual impact of your brand, but they also improve your process by simplifying handling, improving productivity, and reducing waste. Flavorseal is a complete strategic food packaging solutions provider.
---

High Barrier Shrink Bags are durable, multi-layer bags that provides both protection and outstanding clarity.
Creates a glossy, second skin surface
Superior shrink rate reduces purge and increases yields
---

Designed for a high shrink rate and easy peelability, Cook-In Shrink Bags are available in Cook-In Strip, Cook-In Ship and Post-Pasteurization formats.
Highly efficient – won't slow production lines
High shrink rate improves yields
---

Designed for high-abuse products, Bone Guard Shrink Bags provides edge-to-edge, full coverage puncture protection without patches.
Better barrier properties for extended shelf life
Reduces leaker rates and the number of re-packs
---

Poultry Shrink Bags create an attractive exterior package and superior protection for fresh and frozen whole birds and bone-in breast packs.
Rounded bottom minimizes "dog ear" corners
Printing available
---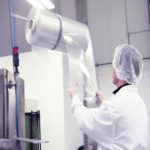 Keep work areas cleaner, use less warehouse space, and reduce bag waste with convenient, perforated Packaging on a Roll for meat, poultry, and cheese products.
Makes it easier to access and handle individual bags
Eliminates cardboard on the plant floor